July 25, 2021 by
Dan Mitchell
@ International Liberty
When writing about economic policy in Latin America, Chile gets lots of attention because it's a remarkable story of success.
Similarly, Venezuela gets lots of attention because it's a remarkable story of failure (with Argentina also deserving condemnation for its downward slide).
But we can also learn from other Latin nations.
For instance, I wrote back in 2016 that Peru was one of the world's "overlooked success stories" because of a big increase in economic liberty back in the good ol' days of the Washington Consensus.

The huge increase in economic liberty that began in the mid-1980s has subsequently been followed by a period of stability.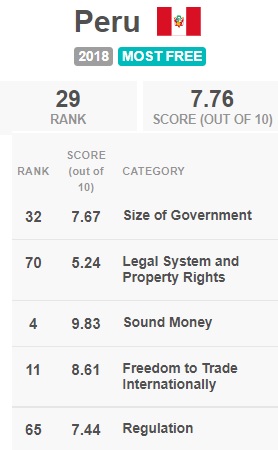 Policy is not perfect in Peru, especially with regards to regulation and the legal system.
But it is #29 in the world according to the most-recent edition of Economic Freedom of the World, which puts the country in the "most free" quartile.
Not bad for a nation that was in the "least free" quartile as recently as 1990 (and among the five-lowest-scoring nations in 1985).
Perhaps more important, the economic liberalization in Peru is paying dividends.
Looking at the Maddison data on per-capita GDP (adjusted for inflation), you can see that living standards have basically doubled this century.
In this case, "not bad" would be an extreme understatement. Peru deserves to be viewed as a success story.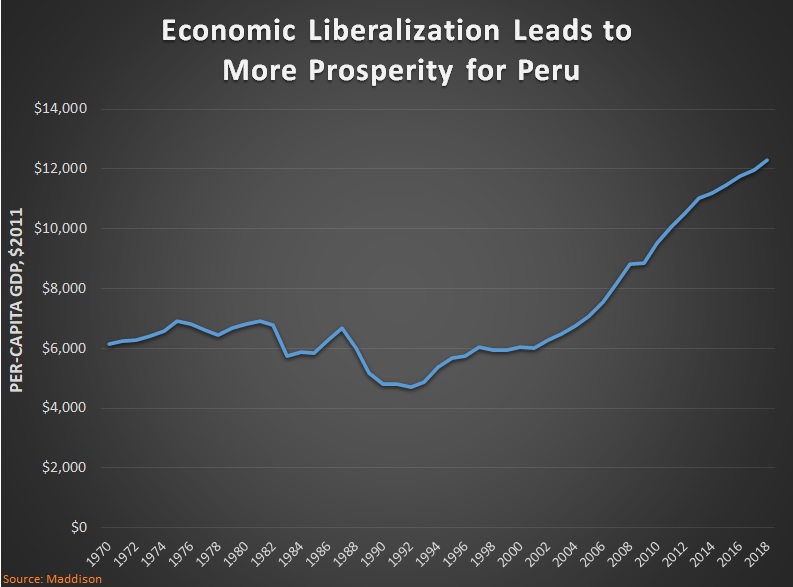 Now for some bad news.
While Peru has made great progress in recent decades, the nation may be on the verge of slipping into Venezuelan-style economic mismanagement following the recent election of Pedro Castillo, who campaigned on a far-left platform.
Surprisingly, the Washington Post has a superb editorial on this topic.


Now, the question is whether Mr. Castillo will seek to undermine…the country's free market economy, or pursue or a more moderate course. At stake is whether the South American country of 32 million will follow the disastrous example of Venezuela, whose autocratic socialist regime has destroyed its prosperity, or continue what, until the covid-19 pandemic, was a record of steadily rising living standards. …Mr. Castillo, who was nominated by a Marxist-Leninist party founded by a Cuba-educated hardliner, says he is not a Communist. He campaigned on nationalizing the mining companies that are the foundation of the economy and summoning a constituent assembly to rewrite the constitution, the political tactic pioneered by Venezuelan strongman Hugo Chávez. But the head of his economics transition team has said there will be no nationalizations, expropriations, or exchange and price controls, and Mr. Castillo has indicated he will leave the conservative president of the central bank in place.Given that the president's party lacks the parliamentary majority it would need to authorize a new constitution or change foreign investment laws… Venezuela's implosion, which has caused 5 million people to flee the country for its neighbors — including 1 million in Peru — has demonstrated the consequences of leftist misrule for the region.
Wow, that's a great defense of free markets that shows a great understanding that statism is a recipe for disaster.
I only wish the Washington Post was similarly concerned about "leftist misrule" in the United States (a.k.a., the Biden-Bernie agenda).
But I'm digressing. For purposes of today's analysis, let's simply hope that soon-to-be President Castillo doesn't wreck Peru's progress.
After all, we know the recipe for growth and prosperity, so it makes sense to worry when politicians want to do the opposite.
P.S. Let's similarly hope that Chile's progress isn't undone by a new, dirigiste constitution.