As we have seen in nations such as Greece and Argentina, voters sometimes cannot resist the temptation to support profligate politicians – a process that can lead to "goldfish government."

In effect, voters choose fiscal suicide.
There's even a quote, often mistakenly attributed to Ben Franklin, that this is the Achilles' Heel of democratic governments (for what it's worth, it appears that a Scottish historian, Alexander Fraser Tytler, was the real source).
Is the United States traveling down that path? Based on long-run fiscal projections, I'm not optimistic.
The good news is that there is still time to fix our problems.
The bad news is that the crowd in Washington is not interested in doing the right thing.
If you think I'm being unduly pessimistic, consider what House Republicans did earlier this week. As Kimberly Strassel explained in her Wall Street Journal column, they decided that the swamp is actually a hot tub.


Self-awareness isn't one of the modern GOP's strong suits, as House Republicans proved again this week. …Leader Kevin McCarthy in September unveiled to great fanfare the party's Commitment to America, which vowed that Republicans would "curb wasteful government spending"… Then came Wednesday's first test of whether this was all hot air… Rep. Tom McClintock moved to repeal the recent party rule allowing earmarks. The caucus routed his motion, voting it down 158-52. Commitment to America? More like Commitment to Spoils.
She added some historical context.
The GOP swore off earmarks in 2011, when it stood for something… But when a Democratic Congress in 2021 announced intentions to bring them back, GOP trough-feeders rushed to sign up. …And the addicts aren't interested in rehab.
Her conclusion does not pull punches.
If Republicans can't muster the backbone to get rid of earmarks that are an affront to spending discipline, good governance and federalism, voters won't muster the enthusiasm to keep them in charge.
Back during the era of the Tea Party, Republicans did the right thing.
Nowadays, motivated by various forces such as big-government Trumpism and big-government national conservatism, Republicans do the wrong thing.
And if you wonder whether earmarks are wrong, here are some excerpts from a column in National Review by Romina Boccia.


Earmarking contributes to excessive spending and is a distraction from more fundamental governing responsibilities, such as reining in deficit spending… Supporters of earmarks insist that they are central to Congress's exercising its constitutional power of the purse. …To the degree that Congress leaves too much discretion to the executive to determine federal funding allocations, it should address that issue directly… Looking at the details of where the money flows, it becomes clear that earmarks mostly authorize pork-barrel spending. …Such a misdirected focus inevitably invites fraud, waste, and abuse. …The 117th Congress included 4,963 earmarks worth a total of $9.1 billion in fiscal-year (FY) 2022 appropriations bills. From feral-swine management to aquarium subsidies to museum and theater funding to local bike paths, FY2022 earmark spending spanned the gamut of parochial interests.
Needless to say (but I'll say it anyhow), earmarks are directly linked to corruptions.
Politicians swap earmarks for campaign cash (and sometimes they even cut out the middleman!).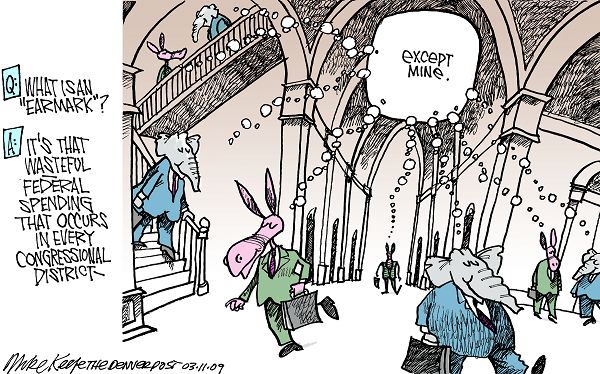 Defenders of this sleazy process sometimes claim we should not worry because earmarks represent just a small slice of a bloated federal budget.
But what they don't realize – or what they don't want the rest of us to understand – is that earmarks are a "gateway drug to big government addiction."
So ask yourself a question: Do you think politicians who get lured into this oleaginous game will have any interest in controlling the overall burden of government spending?
P.S. Just in case everything I just wrote did not convince you that earmarks are a problem, then maybe this headline from September will be more compelling.

Such a depressing headline.
Such a depressing scam.
Such a corrupt system.