By Rich Kozlovich
Since I published this yesterday the number of commentaries about this outrageous corruption of law has been significant, which I've added. It's clear this is going to cause a national scandal. So, I've decided to republish this piece today with all the updates.
From Maverick's commanding officer in the movie Top Gun: "You're ego is writing checks your body can't cash". To paraphrase that: Alvin Bragg, your writing checks your intelligence can't cash. I do believe these leftist misfits will face consequences they won't be able to handle.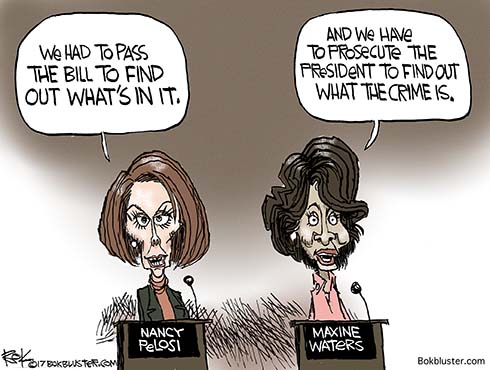 I didn't originate the title to this article, and I'm not sure from where I absconded it, but there it is, so let's move on. This idea of arresting Donald Trump and prosecuting him is a convoluted corruption of law by a corrupt Soros prosecutor, who refuses to prosecute actual criminals, dangerous criminals, and is now attempting to go after a former President of the United States over something that's nothing being termed a felony. None of which in any way reflective of the rule of law. Is it possible this could only happen in New York? A city people are fleeing as fast as they can organize their affairs. New York, city and state, are a mess, and the Democrats own it.

Below are the articles I've read dealing with this, and I like this first one particularly as it demonstrates just how corrupt leftists who hold powerful position really are. There's the old line about being careful for what you wish for, as you may get it, and the Democrats are so hot to finding something for which to prosecute Trump, anything will be acceptable to them, even if it's a lie, they're opening doors they may regret in the future.
If this happens, and if he's convicted, this will make ex-Presidents targets for prosecution much more easily than in the past. This will be the precedent, and even if this doesn't go forward now, could still be justification for going after both Bill Clinton and Joe Biden. The difference is there are legitimate legal issues involving corruption by both of these men justifying making them targets for prosecution, there are none regarding Trump.
How about prosecuting members of Congress? I think that's a really good start, and start doing it now. On what charges? Well, since we no longer have a rule of law in this post Constitutional era, does it matter?
As I said, I really like this first piece as the author lists all their attempts to criminalize Trump, all of which has fallen flat, and at the same time totally ignored all the blatant corruption going on in the Biden Crime Family. Yet the drum major of the Nitwit Parade, Joy Behar, claims,
If Trump Isn't Arrested This Week, 'We Will No Longer Have a Country'.
I used to believe there was a bottom to stupid, but between Joy and the rest of that nitwit parade on The View, we now know, stupid not only has no bottom, it has no boundaries.
I will be updating this piece right up until this either happens or not.

Arresting Donald Trump
Kevin McCullough
|
Mar 19, 2023
For much of the last two months the rumors have swirled. On Saturday the former President acknowledged it. On Tuesday it may happen. As I said on
That KEVIN Show
this has been one of the worst kept secrets in the modern era. What happens if they do? What happens if they put handcuffs on a former President? If you've watched social media this weekend the reaction has ranged. Trump supporters have asserted flatly that it insures his re-ascendancy to the White House. Trump haters are mixed with some gloating "
we finally got him
!" Some are accusing him of attempting to start a civil war. They say this because he merely said "protest" in his post on Truth Social that went viral. Between the gloating and the accusing there appears to be a good deal of panic on the left about the outcome............
Professor Turley exposes the incredible weakness of the Trump indictment
March 19, 2023
By
Thomas Lifson
- Professor Jonathan Turley, one of the few brave honest liberals in academia, is far too nice a person to speak with utter contempt in his voice. But the substance of what he has to say about the indictment and pending arrest of former President Donald J. Trump exposes contemptible behavior on the part of the New State justice system. In two brief clips from an interview he did Saturday with Molly Line of Fox News, he exposes the flimsiness of the case against Trump and the illicit origin of the indictment. First, how Trump could end up convicted even though the charges are likely to get thrown out on appeal:
Trump-hating John Bolton says an arrest could get Trump back in the White House if it doesn't go exactly as leftists would like.......
A two-tiered justice system and the perils of a Trump arrest
,
March 19, 2023
By
Rajan Laad
-Last March, the
Federal Election Commission fined
Hillary Clinton's 2016 campaign $8,000 and the Democratic National Committee $105,000. Their crimes were the obscuring of their funding for the infamous "
Steele dossier
." The Clinton campaign attempted to disguise payments to Steele as "legal services" and "legal and compliance consulting" in campaign filings. Lawyers working for the Democrats in 2016 hired research firm Fusion GPS to 'investigate' Trump. The firm then paid former British intelligence officer
Christopher Steele
and his company, Orbis Business Intelligence, to conduct 'opposition research.' The Steele dossier was replete with spurious claims and conspiracy theories. It was passed on to politicized government agencies which used it as one of the reasons to spur the Mueller probe. The probe lasted for almost two years, cost $32 million of taxpayer funds, and hung like a sword over the Trump presidency. The vast disinformation campaign was the first step by the Democrats towards outlawing political opposition. But nobody was punished for this.................
4 ways to Get Trump,
March 19, 2023
By
Clark Wren
- "The far & away leading Republican candidate & former president of the United States of America, will be arrested on Tuesday of next week.," Trump
wrote
on Truth Social.
So the Kafkaesque Ministry of Justice or the banana republic Justice Department or the weaponized legal system
(whichever is the proper term here) is trying to indict President Trump in four different ways. The law of averages means that one of these methods will likely succeed. This Tuesday will be interesting............
Government Tyrants Play with Fire.
By
J.B. Shurk
-The communist thugs controlling America's legal system
have chosen to cross the Rubicon, it seems. President Trump
says
he will be
arrested Tuesday
now that New York City's corrupt,
Soros-funded
district attorney has cooked up some cockamamie criminal indictment against him involving Stormy Daniels — the same political pawn who was already
ordered to pay
the president 300,000 dollars in legal fees as restitution in a prior case. If anyone needed further evidence that we reside under a post-constitutional Uniparty regime with
utter disdain
for the
rule of law
, add this to the long list of government crimes and usurpations committed against the American people.
Conservatives Rally Around Trump, Katherine Hamilton
Conservatives sounded the alarm following news that former President Donald Trump
expects
to be arrested on Tuesday based on "illegal leaks" from the Manhattan district attorney's office. Republican lawmakers and conservative figures and commentators said the predicted arrest of Trump, who is running for president in 2024, shows how the justice system is "weaponized against all Americans" and warned that the United States is turning into a "banana republic." Even so, many conservatives wager an arrest would only further reveal the extent of Democrat corruption, ultimately skyrocketing support for Trump's presidential run...........
Elon Musk: 'Trump Will Be Re-Elected in a Landslide Victory' if Arrested, Robert Kraychik Former President Donald Trump will win reelection in a "landslide victory" if he is handcuffed and arrested next week, Elon Musk, CEO of SpaceX, Tesla, and Twitter predicted in a tweet published Saturday. Musk's tweet was in reply to David Freiheit — also known as Viva Frei, who, similarly, assessed that a Trump arrest will lead to a boon of political support for the former president.
Burt Prelutsky once noted: "Frankly, I don't know what it is about California, but we seem to have a strange urge to elect really obnoxious women to high office. I'm not bragging, you understand, but no other state, including Maine, even comes close. When it comes to sending left-wing dingbats to Washington, we're Number One.
There's no getting around the fact that the last time anyone saw the likes of Barbara Boxer, Dianne Feinstein, Maxine Waters, Kamala Harris, and Nancy Pelosi, they were stirring a cauldron when the curtain went up on 'Macbeth'. The four of them are like jackasses who happen to possess the gift of blab. You don't know if you should condemn them for their stupidity or simply marvel at their ability to form words."

Democrats Accuse Trump of 'Inciting Violence,' As All Part of His 'Playbook', Sarah Arnold March 19, 2023 - I'm sure if Democrats could, they would throw a parade in the wake of the news that former President Trump is facing potential indictment, making it a bit easier for them to keep the White House in 2024 and to push their radical agenda on Americans. Former House Speaker Nancy Pelosi (D-Calif) denounced Trump's call for his supporters to protest, accusing him of inciting violence. "The former president's announcement this morning is reckless: doing so to keep himself in the news & to foment unrest among his supporters," Pelosi tweeted. "He cannot hide from his violations of the law, disrespect for our elections, and incitements to violence. Rightfully, our legal system will decide how to hold him accountable."...........
Law Enforcement Agencies Are Preparing for Possible Trump Indictment Leah Barkoukis , By Robert Spencer March 17, 2023 - It has been a long time coming, and now the final act appears to be in view. Donald Trump is about to be arrested, and the corrupt and politicized authorities who have brought matters to this point are preparing for the worst: the NYPD, the Secret Service, and even the FBI's Joint Terrorism Task Force are all busy making preparations for the big day, which indicates several things about what will happen and what they expect will happen, or want us to think they expect will happen. NBC News reported Friday that "local, state and federal law enforcement and security agencies are preparing for the possibility that former President Donald Trump is indicted as early as next week, according to five senior officials familiar with the preparations." All this talk among security agencies centers around security preparations at Manhattan Criminal Court, where Trump will face charges over alleged hush money payments to porn star Stormy Daniels..............
'That's Obviously the Play Here': Matt Walsh Has an Interesting Theory on Why Trump Might Get Arrested, Scott Morefield March 18, 2023 -The possibility of the Manhattan Criminal Court indicting former President Donald Trump on charges related to hush money payments to Stormy Daniels has led to a variety of theories around the inevitable political fallout to come. Though the charges reportedly to be brought against Trump initially don't appear to be anything that would land him in jail for even a day, the possibility of handcuffs and a perp walk for the former president has Democrats salivating and conservatives, even Trump critics, aghast that partisan politics have descended so low. This is the stuff of banana republics and Third World dictatorships, not what was not so long ago the beacon of the free world......
The Trump Arrest is the Last Gasp of 7 Years of Fake Lawfare By Daniel Greenfield There's no case here. And they know it. Having exhausted most of the federal resources in pursuing charges they couldn't prove, process crimes that weren't criminal and cases that had no crimes attached to them, the ball has partly passed to the states. (Although Jack Smith's Special Counsel investigation is the last great hope of the Mueller fanboys.) Clumsy amateurish efforts have advanced in New York and Georgia that make little effort to disguise the fact that they exist purely to bolster the political status of the local officials involved. The impending arrest comes from Alvin Bragg, a prosecutor so "progressive" that even Soros' people emailed me to disassociate themselves from him the last time I wrote about him. (It's pretty bad when even Soros doesn't want his name linked to yours.) Bragg ran on a platform of not arresting criminals and he's delivered........
The coming Trump arrest is a very dangerous power play
March 19, 2023 B
y
Andrea Widburg
- My mom used a pressure cooker that was the terror of the household. It bounced around all over the counter and, unless the heat was applied and the pressure released with incredible care, it was like having a bomb in the kitchen. When I look at what the Democrats are doing in America, I am reminded of that pressure cooker. Their latest scheme is to arrest Trump even as they announce that they are doubling down on persecuting the almost entirely peaceful J6 protesters who unwittingly trespassed in the Capitol. The first action builds pressure; the second denies Americans their constitutional safety valve. I fear that this cannot end well. Let's think about the chronology just to make sure we understand what's going on:......
Vivek Ramaswamy's viral take on the threat to arrest Trump,
By
Andrea Widburg
- Vivek Ramaswamy, the businessman turned presidential candidate, has posted a not-quite-3-minute-long video in which he attacks DA Alvin Bragg's efforts to use lawfare to kneecap Donald Trump in the upcoming presidential election. Ramaswamy's video has 3 million views on Twitter as of this post, and the numbers are going up—and no wonder. He says we what all fear: That the possible indictment of Donald Trump marks America's official passage from a constitutional republic to a banana republic.............
In Alvin Bragg's Manhattan, a Whole Lot More REAL Felonies Are Being Committed - Manhattan DA Alvin Bragg has been very reluctant to prosecute most people for felonies, but apparently, former President Trump is different. Compare the last year before the pandemic (2019) with 2022. Under Bragg, the number of felony cases Bragg declined to prosecute increased from 828 to 1,119 — a 35% increase. That explains most of the drop in the conviction rate for felonies from 68% to 51% over that period. And while many felony cases were then handled as misdemeanors (a 33% increase over 2019), the drop in misdemeanor prosecutions was much larger, explaining why the number of misdemeanors resulting in jail sentences fell by 78%. What makes this all the more remarkable is that this huge drop occurred while the number of offenses increased.......
Trump Calls Persecutor Alvin Bragg a "Racist" in Fiery Social Posts - The ongoing saga surrounding Donald Trump and his hush money payment to porn star Stormy Daniels has prompted the President to issue some scathing remarks about the New York District Attorney for the case, Alvin Bragg. I discussed it during a segment of the latest episode of The JD Rucker Show:...........
Manhattan prosecutor's office reportedly 'in chaos'
March 20, 2023
By
Monica Showalter
- When law is tossed out the window, is anybody surprised that chaos follows? That's apparently what we have in the Manhattan district attorney's office, where Soros-financed District Attorney Alvin Bragg is reportedly presiding over a chaotic shambles in the wake of news that his men intend to indict President Trump on politicized charges............Banana republic politics, banana republic office, just like what you might find in places like Caracas or Managua. The root of it seems to be in Bragg's stated Trump-hate, which he openly campaigned on when he ran for office in Manhattan.
That's actually illegal, but the matter was ignored by voters..
...........He's reduced about half the felony charges of actual violent criminals to misdemeanors, and thrown the book at the innocent, such as the hapless Bronx bodega clerk, Jose Alba, who was forced to defend himself against a poised killer during a robbery...........But as for real criminals, Bragg had other ideas and has made life in Manhattan a living hell............The entire case, as legal scholar Alan Dershowitz has noted, is based on "
made up laws
,".............It gets worse now that news has broken that the five-year statute of limitations expired ... two years ago..........