Klayman:
FBI Investigators Likely Quit Mueller Over the Partisan Nature of Special Counsel's Investigation!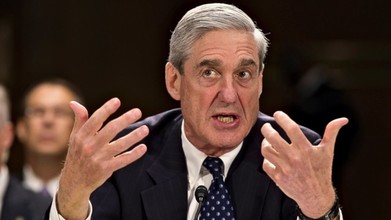 ABC News
Special counsel Robert Mueller has now lost a second official that he brought in from the FBI to help investigate Russia's alleged meddling in last year's presidential election, ABC News has learned.

The latest FBI veteran to leave, Lisa Page, was described by media accounts in June as a trial attorney with "deep experience [in] money laundering and organized crime cases." She was part of what Wired magazine called Mueller's "investigatory dream team." .....
Continue Reading.....
Larry Klayman Slams 'Unconstitutional' Moves to Protect Mueller
Democratic efforts to protect Russia special counsel Robert Mueller are "unconstitutional," former federal prosecutor Larry Klayman told Newsmax TV on Thursday. "The power to appoint Mueller, the power to remove him lies with the Justice Department," Klayman, founder of Freedom Watch, told "Newsmax Now" host Bill Tucker in an interview...........
Continue Reading.....
Klayman: Mueller Is Illegally Leaking Grand Jury Information in Russia Probe and This Needs to Be Investigated!
Robert Mueller is rarely seen and almost never heard. He doesn't frequent popular restaurants, appear on television or even issue statements. When he meets in person with President Donald Trump's lawyers, he does not visit the White House where reporters might notice. He instead summons them to the conference rooms of his southwest Washington D.C. office, whose specific location is among his many well-guarded secrets.

In those meetings and others, the special counsel investigating Russian interference in the 2016 presidential election strictly limits the number of outsiders who can attend. Militant about leaks, the former FBI director swears participants to a secrecy that they have honored to a remarkable degree. Reporters have long considered him among Washington's toughest nuts to crack: "You'd be embarrassed to ask Bob Mueller for a leak," said the veteran journalist Steven Brill, who has written extensively about media coverage of special counsels. "It'd be like asking him to watch a porn movie with you.".............
Continue Reading.....
Special Prosecutor with Larry Klayman: Prosecuting Hillary; History & Importance of Bundy Case; "Essays of a Madman"
Host Larry Klayman discusses prosecuting Hillary Clinton; then takes up the history and importance of the Cliven Bundy Case. Finally, how you can get your own copy of "Essays of a Madman."
Freedom Watch TV

October 1, 2017